Leadership Storytelling
The Power of Stories in Your Speech
How To Introduce Relevant Stories in Your Leadership Role

Simon Bucknall, High Impact Speaking Expert, International Speaker, Coach & Facilitator, based in London UK and travelling internationally, delivers a Masterclass in The Art of Storytelling at GE
Consider for a moment...
Wherever you're sitting right now, there is gold in the room.
I'm referring, of course, to the 'gold' represented by the value of your own experience.
The sheer diversity, depth and potential impact of past experience is HUGE. The reason I know this is because I've spent years helping people achieve massive impact for the benefit of the listeners, whether it's the...
Prisoner in a High-Security jail
CFO for a world-famous hotel
Refugee social entrepreneur from Zimbabwe
Newly promoted Consultant Anaesthetist in a major hospital
Production Director for a major aluminium processing facility
The challenge we face is that, like gold in the natural world, the true value of personal experience isn't just 'lying around'.
It has to mined, gathered and refined.
Too often, we consistently underestimate the true value of our own personal/professional experience.
We assume, mistakenly, that 'no-one would ever be interested in that!'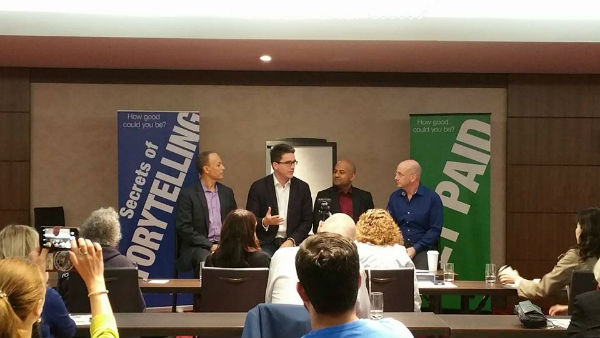 Discussing the power of storytelling with 3 World Champions of Public Speaking
Ed Tate, Manoj Vasudevan and Darren LaCroix, Vancouver, Canada - August 2017
Practical, intensive and interactive sessions with me on Leadership Storytelling...
Are about changing that. They help your team to source, mine and exploit the true value of that gold, for the benefit of stakeholders.
Bring 'dry content' to life
Be more inspirational as a leader
Connect more deeply with listeners
Identify experience with business value potential
Be more imaginative in your leadership communication
Ensure your story is told in a relevant and engaging way
Oh and some final words of reassurance: as I explained to a group of French hydroelectric turbine engineers in Nantes a while back...
Leadership Storytelling is NOT about publicising your private life. It IS about personalising your professional experience... for the benefit of listeners.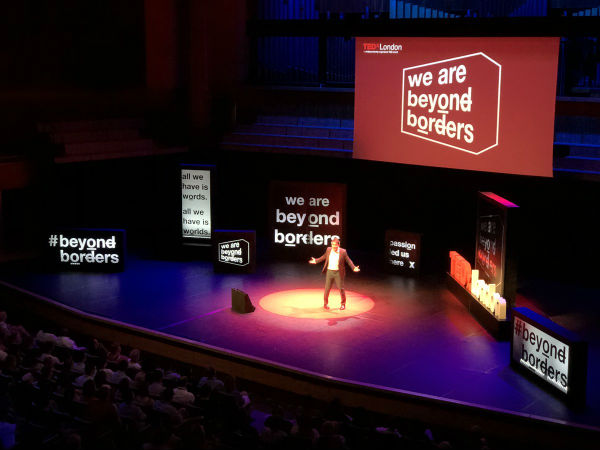 Using the Power of Stories in a speech
'Why Public Speaking Should Be Taught In Schools'
TEDxLondon, Royal Festival Hall, Southbank Centre, London - July 2018
"I continue to be amazed by his storytelling skills - Simon delivers a masterclass in connecting with his audience every time he speaks."
Alexander Lowry, Principal Consultant, PA Consulting Group
"Simon brought his vast experience to the subject of storytelling which he masters wholly... skilfully guided members through his unique series of techniques for both developing and delivering relevant business stories that, by definition, can belong only to each business concerned.
An excellent morning and highly recommended."
Gordon Bromley, Chairman, Surrey & SW London, Academy for Chief Executives
"Thank you for a wonderful session. Feedback is frighteningly good."
Joseph Wilkes, Associate Director Careers, Executive MBA & MBA, Hult International Business School, London
For Further Information Contact Simon | +44 (0)7834 083500 or complete ENQUIRY FORM