Your Red Hot Elevator Pitch
How 'Hot' Is Your Pitch?
Simon Bucknall, High Impact Speaking Expert, International Speaker, Coach & Facilitator, based in London UK and travelling internationally, describes Your Red Hot Elevator Pitch Masterclass
"Too many ambitious professionals struggle to articulate their true value, whether pitching for new business, presenting to clients or interviewing for a new job." Simon Bucknall
"Thank you for your incredible contribution to the Chivas Venture 2018 - from the initial inspiration during the Accelerator Programme in Oxford, all the way through to the Final Stage in Amsterdam.
I was blown away by how the Top 5 Chivas Venture finalists stepped up in front of 2,500+ people, following their work with you.
You tailored your advice to meet each entrepreneur's needs and your coaching made a real difference to this year's Final event."
Laurence Mainaud, Global Brand Manager, Chivas Venture - May 2018
Finalists from Spain, Malaysia, USA, Netherlands and UK.
The big pitch delivered to 2,500+ audience members at the European TNW Tech. Conference 2018, Amsterdam.
$1 million shared between them: Congratulations to all!
1st place: Cemal Ezel, Change Please
"In 2018, Simon coached me with public speaking, style, helped me write my pitch, and gave me every imaginable tip to manage my nerves, present with esteem, conviction and win over the audience - with his help I went on to pitch to 3,000 people and win the World Social Enterprise competition.
I cannot recommend him more highly to any CEO or senior executive looking to perfect their public speaking and win over an audience."
Cemal Exel, Founder of Change Please, 2017 UK Social Entrepreneur of the Year, Global Winner of The Chivas Venture, 2018 - May 2018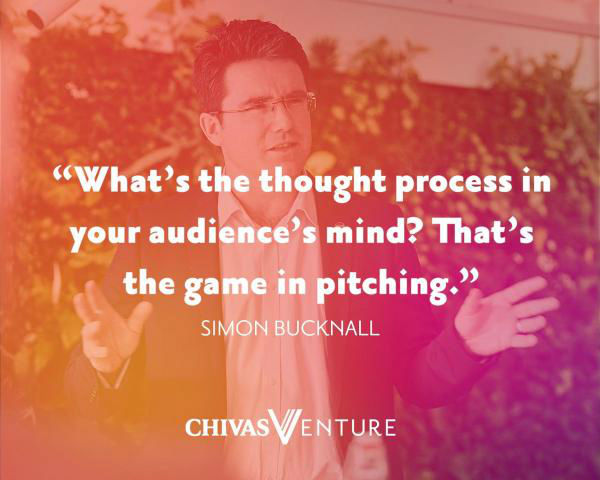 "In 2019 I had the pleasure of working with Simon while pitching at the final of The Venture, the most important competition for social entrepreneurs.
Simon helped me to deliver a perfect pitch to an audience of 2,500 people, he also helped me to improve my body language and storytelling abilities.
I am very certain that I won that contest thanks to Simon's help."
Javier Larragoiti Kuri, Founder of XiliNat, Researcher, Department of Chemical Engineering, Mexico, Global Winner of The Chivas Venture, 2019 - May 2019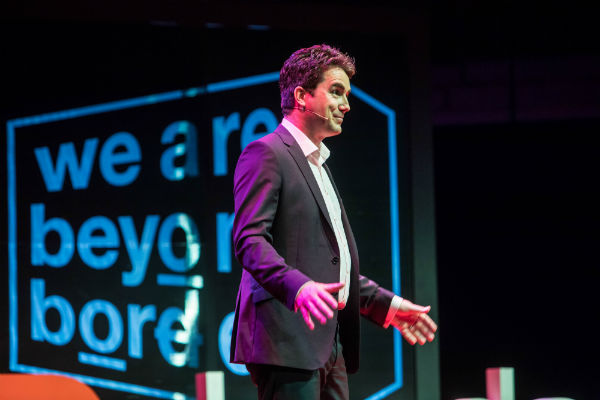 Having fun delivering speech at TEDxLondon - July 2018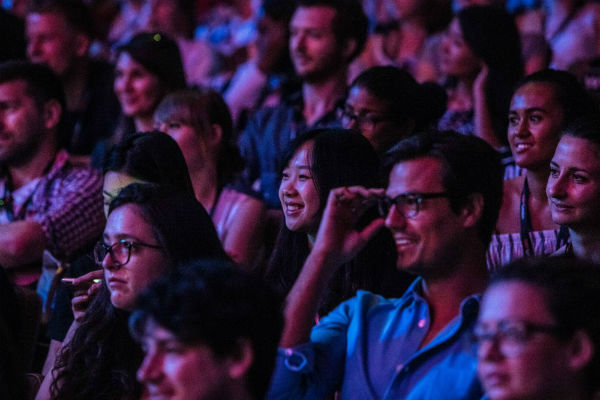 Audience reaction to TEDxLondon speech - Why Public Speaking Should be Taught in Schools - July 2018
"Simon's masterclass on pitching and effective communication attracted over 60 MBAs and other post-graduate students from across Oxford during the exam period.
I would recommend it to anyone, especially mid-career professionals, looking to enhance their ability to communicate their ideas with conviction."
Soushiant Zangenpour, Manager, Skoll Centre for Social Entrepreneurship, Said Business School, University of Oxford

Enjoyable session working with some of the 30 Chivas Venture global social entrepreneur finalists from 2,300 applicants at Said Business School, University of Oxford - March 2017
"Incredible advice from Simon Bucknall on how to get our pitch perfect."
I-Drop Water, Chivas Venture Finalist, Accelerator Week - March 2017 as above...
Speaking on the importance of emotion in an Elevator Pitch
Brussels December 2019
This Masterclass on Pitching helps your team to:
Unlock their true value for the benefit of listeners
Nail their next Sales Presentation or New Business Pitch
Engage their audience right from the very first word (literally!)
Be more impactful in the opening to presentations, meetings and pitches
Convey the value of your product, service or business in a very short timeframe
"Simon delivered an outstanding event on how to prepare an Elevator Pitch in a concise and memorable way. The event was engaging and our membership loved it! We had 100% satisfaction rate and people rated the event as the best ever.
Many comments highlighted the virtues of Simon as a speaker. We had requests from other areas to replicate this event elsewhere as they felt inspired and energized by Simon.
We look forward to having Simon back again in the future!"
Carolina Castilla, Loyalty Solutions Expert/Business Development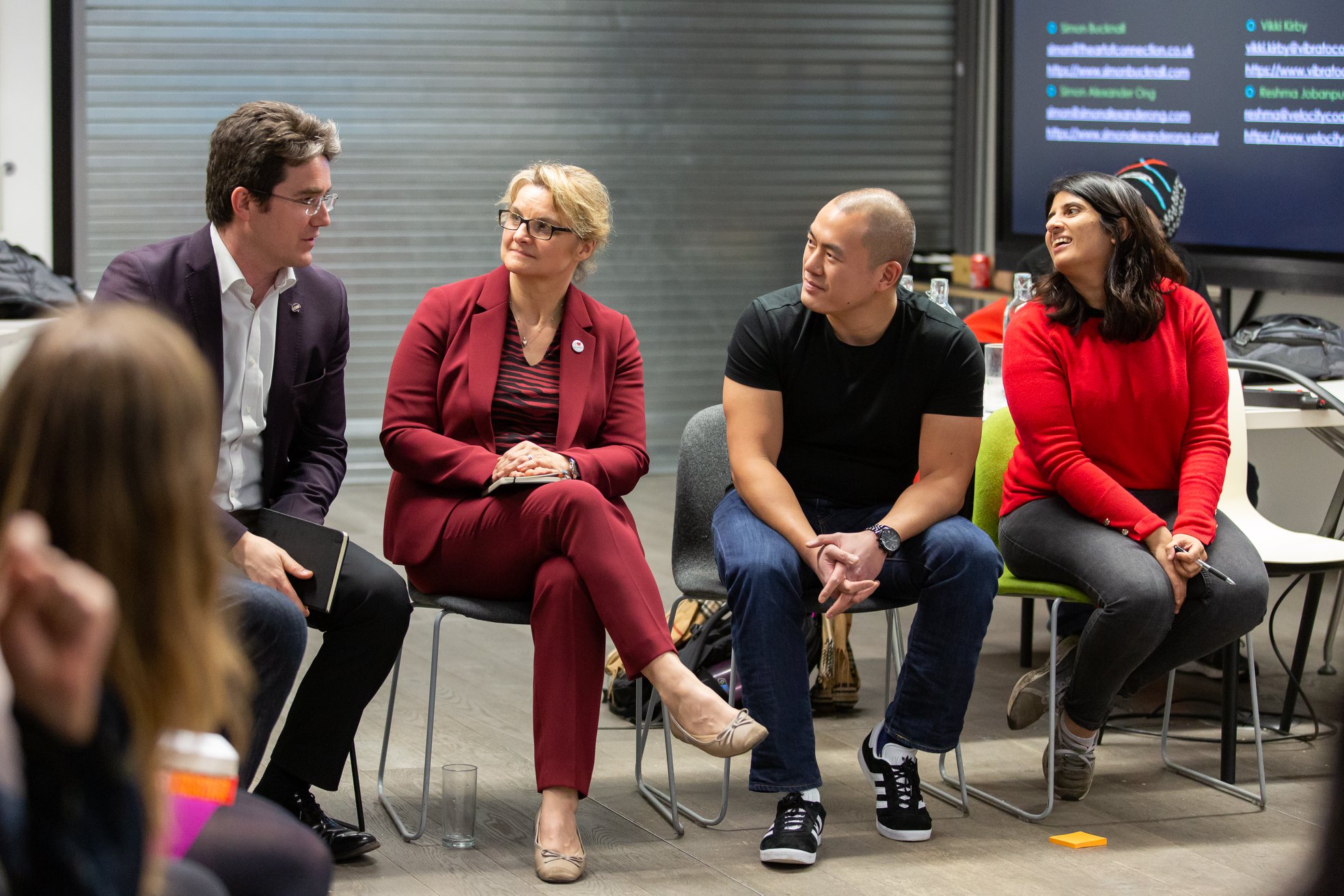 Most enjoyable time judging Entrepreneurs Pitching Event. Congratulations to all contestants.
Wonderful informal chat with Simon Alexander Ong, Reshma and Vikki at Pitching Contest Clerkenwell March 2020
Delivering 'Your Red Hot Elevator Pitch' at Hub Kings Cross, London
"Simon is in a class of his own. He is public speaking.
We left the training empowered and we can't wait to put his lessons into practice."
Gerhard Mulder, 2017 Executive MBA Candidate, Said Business School, University of Oxford
"Fantastic, inspirational and spot-on stuff we need to improve our communication."
Mary Lou Masko, Course Director, Laing O'Rourke Centre for Construction Engineering and Technology, University of Cambridge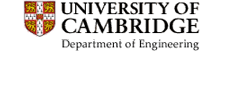 For Further Information Contact Simon | +44 (0)7834 083500 or complete ENQUIRY FORM