"The Inspiration Game"
Speaking Skills To Win Hearts & Minds
High-Intensity Interactive Talk 3 [H.I.I.T.] August 2023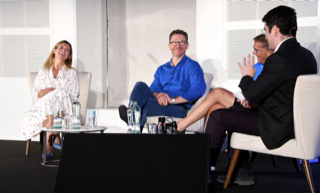 Enjoying Rapport ...
It's the Everest...
The communications attribute of the greatest leaders: the ability to inspire an audience. Many believe it to be a natural gift, bestowed at birth - an Inspiration Game that's open only to the fortunate few.
Not true.
Each and every one of us has the ability to inspire. It's a game every leader can play. It requires skill but it can be learnt. Does it involve practice? Yes. Need the right mindset? Yes. Require courage? Absolutely.
But this H.I.I.T. shows you how, drawing on World Champion of Public Speaking Finalist Simon Bucknall's thousands of hours spent working with leaders on their spoken communication.
Access communications gold that you never knew you had
Achieve a deeper emotional connection with your listeners
Bring to life the true value of your ideas/messages
Unleash your authentic self as a speaker
Be remembered... and acted on!
"That was extremely inspiring, motivating and full of great tips. I hope to be able to translate it to both my dissertation presentation and to my work in general. Thank you."
Course participant January 2023
"The sheer energy and passion and pathos Simon puts into his work is by itself inspiring. Excellent, 5 stars. Would visit again."
Course participant January 2023
If you'd like to learn more about what we offer please get in touch using the contact link at the top of this page.
Speak soon...