"Your Red-Hot Elevator Pitch"
How To Really Engage Your Listener
High-Intensity Interactive Talk 2 [H.I.I.T.] August 2023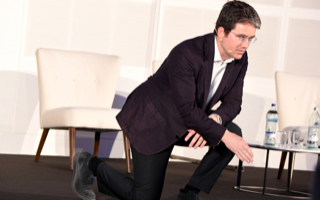 Getting Close Up and Personal
The ability to communicate the true value of a product, service or idea in a short timeframe is a critically important skill... but one which is in short supply.
You may not literally be in an elevator with a multi-billionaire. But you may be pitching to potential investors, seeking to attract new prospects or customers or perhaps answering that seemingly simplest of questions:
"So, what do you do?"
This popular H.I.I.T. offers a set of communication tools for mastering a key communication skill-set. Learn how to construct and refine your pitch, ensuring it's 100% focused on attracting the interest of your listener.
Engage your listener with your very first word... yes, it's possible!
Articulate the true value of what you're pitching
Learn how to strip out unnecessary detail and clutter
Be more engaging in presentations and meetings
Leave your listeners wanting more...
"Really engaging, practical and of immediate value."
Course Participant January 2023
If you'd like to learn more about what we offer please get in touch using the contact link at the top of this page.
Speak soon...