Blog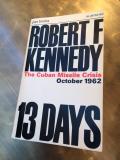 In October 1962, the world stood on the brink of nuclear war. What communication insights can be drawn from Robert Kennedy's personal account of the crisis?
What Is the Quality of Experience People Actually Get Face to Face Through the Spoken Word?

How To Add Emphasis in Your Speech

What do we Learn from Martin Luther King, Charles Dickens and the Ancients Greeks?

What does Yoda Have in Common with Ancient Athens?

How to Learn New Perspectives in Speechmaking from Ancient Athens and Ancient Rome

What do the Sophists Teach us about Speechmaking?

How to Improve Our Speechmaking according to Pericles

How to Improve our Speechmaking - A Surprise from the Parthenon
Are YOU making any of these 7 critical mistakes?